ARE YOU TIRED OF GIVING YOUR MONEY TO MECHANIC TO WORK ON THINGS THAT DO NOT AFFECT YOUR CAR?
If YES then,OBD II Scanner can HELP You SOLVE that Problem - Give me Just one minute and read to the end, YOU will wave your Mechanic #Goodbye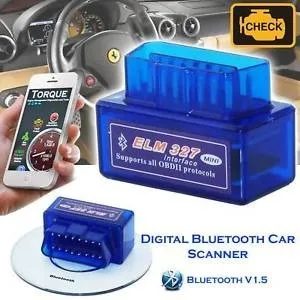 What is OBD II Car Diagnostic Scanner?
OBD II Car Diagnostic Scanner is an amazing device specifically and specially designed for Car Owners to Scan & Find the exact fault of their Cars with Complete Fault Fix Explanation displayed on any Android Phone or Tablet.

Don't let your mechanic rip you off your hard earned money or even mess up your Car and it requires "zero" technical training. It is an easy tool to use "Do It Yourself" 100% offline device with complete Fault Code Explanations and Fault Fix Instructions in simple English unlike the vernacular you hear from the mechanic.
YOU CAN GET YOUR CAR'S INFORMATION BY YOURSELF. YOU JUST NEED TO PLUG IT IN YOUR CAR'S OBD PLUG,AND CONNECT IT WITH YOUR PHONE(PLEASE REMEMBER TO OPEN YOUR PHONE BLUETOOTH),THE INFORMATION ABOUT YOUR CAR WILL DISPLAY ON THE PHONE.
NOTE : THE PRODUCT WORK ONLY WITH

ANDROID

.
The device lets you perform the following operations:

Read/clear error codes, display their meaning, turn off MIL, show current sensor data. Find out why check engine light is on before visiting a Mechanic - save money by fixing simple problems yourself.

FEATURES
• View your car engine data on your ANDROID PHONE live all by yourself.

• RETRIEVE Fault Codes (DTCs) and CLEAR Check Engine lights

• View Detailed Fault Code Explanation with Technical Advice from your car Manufacture on how best to work/fix on the Faults on your Phone (internet required)

• See what your car is doing in real-time, get OBD fault codes, car performance, sensor data and more

• Find problems in your car before they happen, all vehicles from 1996 has an OBD 2 port. It is usually somewhere below the car steering.
How to use 
Support cars : works on all cars

45 Day Money back Guarantee
It's amazing the amount of pride and care they put behind making the customer #1 and taking great care of people.

With every purchase, you get a 45 day moneyback guarantee, so can try and use the hearing aids for more than a month before you decide if you're going to keep them.